Friday, April 25, 2008
Posted by dcmackinlay at 6:50 AM 0 Talkbacks


Labels: fredo
Posted by dcmackinlay at 6:48 AM 0 Talkbacks


Labels: fight club
Monday, April 21, 2008
YEEEEEEEEEE-HA!


Posted by dcmackinlay at 8:28 PM 0 Talkbacks


Labels: dr. strangelove
So here's a question that I don't have any answer to. Is this animation based on Enter the Dragon... or the Last Dragon?




Theory: Enter the Dragon. Evidence: the bloody wounds.
Theory: the Last Dragon. Evidence: crazy slow-mo.

Verdict? Animator's memory was confused, and he didn't do the proper research.

But hey, now it's an homage to TWO worthy flicks that taste great together.
Posted by dcmackinlay at 8:17 PM 0 Talkbacks


Monday, April 14, 2008

Posted by dcmackinlay at 6:48 AM 0 Talkbacks


This one's not a Masthead animation, but rather a birth announcement thingy that Harry wanted made for his sister and newborn nephew: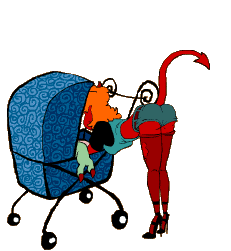 Posted by dcmackinlay at 6:46 AM 0 Talkbacks


To anyone checking in, sorry about missing a couple of Fridays. My 'reminders' weren't reminding me for some reason. I have that fixed now, and hopefully won't be skipping any more weekly updates.

Without further ado:




Oh sure, it's cheap and lazy, but you can't tell me it isn't cheap and lazy.
Posted by dcmackinlay at 6:41 AM 0 Talkbacks